The 1720 Southern Championships were held in the Royal Cork Yacht Club from Friday 28th to Sun 30th August.  There were 14 boats competing over the three days and it was great to see new faces join the fleet.  Baltimore was well represented with the club boat Livewire racing with an under 25 team, Dutch Gold, Finaleg, T-Bone and Spiced Beef all in the mix.
Each day Pierce Ryan racing on Livewire provided a report for our club facebook page.  It is duplicated below along with photos taken by Deirdre Horgan.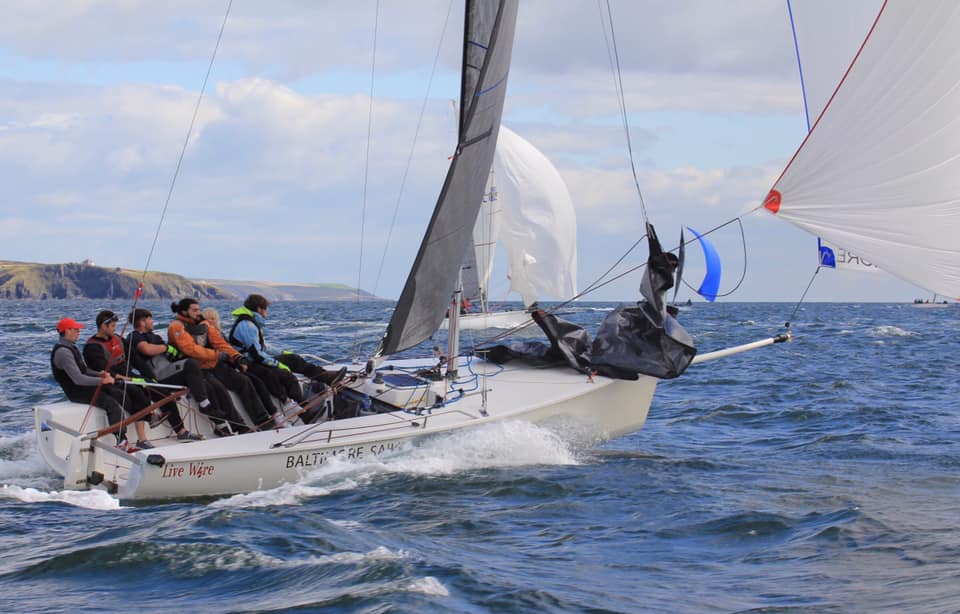 Day One report – "Wild day on the water! The first day of the 1720 Southerns brought challenging conditions. Live Wire came sixth in the first race, run with all boats using small jibs and kites due to the heavy winds. In the second race, the fleet got the all clear to use their big jibs and kites, resulting in some intense action downwind, during which Live Wire managed to pull off a 3rd place finish. Looking forward to taking on this competitive fleet tomorrow".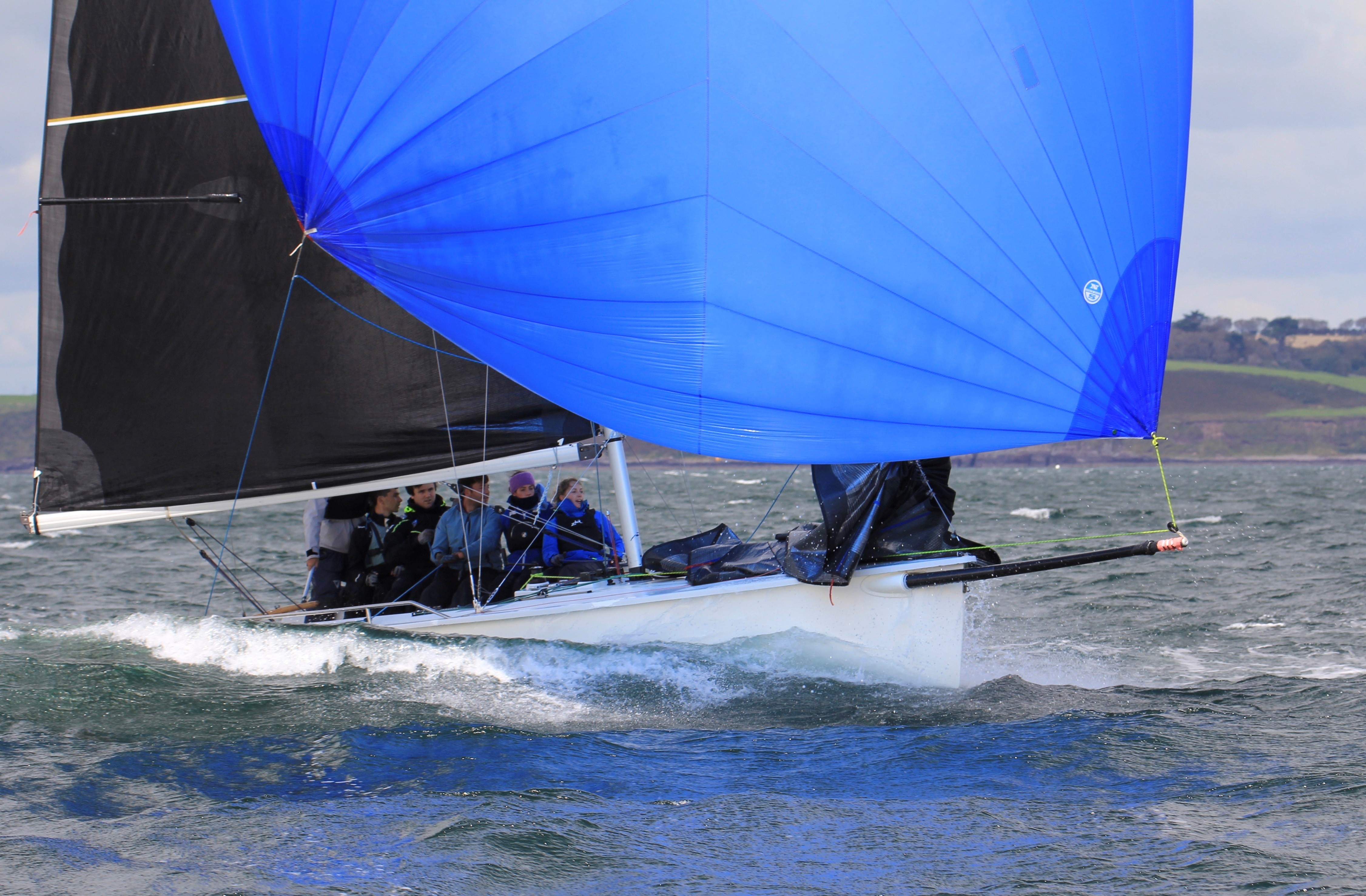 "Day 2 of the 1720 Southerns was a five race marathon held in a strong northerly breeze south of Roches point. Live Wire had a disappointing start to the day, and a couple of mishaps, but we improved steadily as the races went on. Due to the shifting winds coming off the land, looking ahead and picking the right side of the course was crucial. We wrapped up the day by posting a second place finish in the fifth race, pipping event leader Rob O'Leary on the finish line!".
"On the final day of the 1720 Southerns, the teamwork that we had been building over the previous two days all came together. The manoeuvres and communication onboard were the best we've had so far. We posted a sixth and an eighth in the flickering light winds, moving up two places in the results to finish in fifth overall. This was a major achievement for Live Wire, and we couldn't have done it without the support of Baltimore Sailing Club. All of us on board would like to thank the members of the BSC committee, in particular Commodore Charlie Bolger and Sailing Secretary Rob O'Leary".
Congratulations to Dutch Gold helmed by Rob O'Leary and his crew Cliodhna Connolly, Seafra Guilfoyle, Cian Byrne and Cian Guilfoyle on their win.  T-Bone (Tom Durcan/Clive O'Shea) was second and Ropedock Atara (English/McDonald) was third.
Full results can be found here.   Photos from the event can be found here.
The fleet are looking forward to their National Championships which will be jointly hosted by Baltimore Sailing Club and Monkstown Bay Sailing Club in Cork Harbour on 25 – 27th September.  Full details including Notice of Race can be found here.